Pittsburgh Rainy Wedding Day Photography
Uh oh. You're looking at the forecast and it looks like the dreaded RAIN. Thanks a lot, Pittsburgh. In typical fashion for the City of Bridges, there is usually rain in the forecast somewhere in any given week, but the worst is when it falls on a wedding day. There are lots of brides who are disappointed with this news, but I look at a rainy day forecast as a great challenge! There are ways to get beautiful photos in the rain, and great locations for rain photography in covered areas in the City of Pittsburgh area. Here are a few of my favorites.
Frick Fine Arts Building Rain Location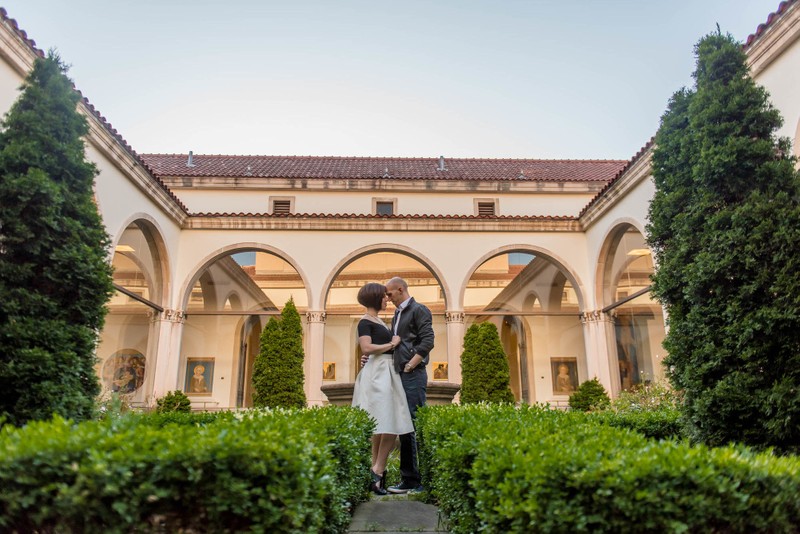 The Frick Fine Arts building for photography is a small location, but a good one for a backup plan in case of rain. Since it's a building on the University of Pittsburgh campus, it's important to be respectful. I wouldn't recommend bringing your entire bridal party into this spot, but it ca be something different for brides and grooms. The courtyard shown above is in the middle of the building, but surrounding the courtyard is a glass walkway with lots of artwork. It's a good option to get natural light in a place that's covered.
Mellon Institute Columns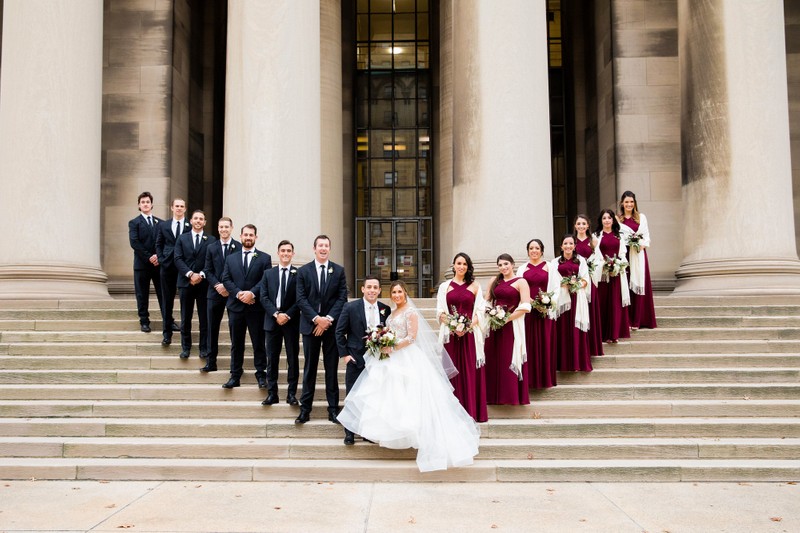 Is there any more popular rain backup location for photos in the city of Pittsburgh? The Mellon Institute Columns are covered, large, and a hot spot for photographers everywhere. In the rain, this location can be very busy, so be respectful of other wedding groups. The classic columns make for a wonderful wedding photo backdrop, and you can get an entire wedding party in there as well!
Allegheny City County Building
This location is similar to the columns, in that it is a large covered area made in the same style of architecture. There are big pillars and space to stand in front of the downtown Pittsburgh building. It has great, large windows which I love. Keep a lookout for garbage cans in the background and you'll be good to go!
David L Lawrence Convention Center
The David L Lawrence Convention Center is a wonderful rain photo backup plan! At one end of the Convention Center there is a large curving walkway that leads down to the rivers. I love to photograph my couples at both ends, and take photos of them along the pathway in between. If you're lucky, then the walls of water will be turned on and glowing different colors and you can really get something modern in a covered location. Again, this spot has lots of natural light to take advantage of for the perfect wedding pictures!

Keywords: Priory, Rain.