Heinz Memorial Chapel Wedding Photos
Heinz Memorial Chapel holds a special place in my heart - it's where I married my husband! We are both University of Pittsburgh alumni, so I love it there!
Heinz Memorial Chapel Weddings
Heinz Memorial Chapel is a non-denominal wedding chapel on the grounds of the University of Pittsburgh. It is across the lawn from the Cathedral of Learning and is most recognizable by it's large, bright red doors, and it's tall gothic-style architectural spire.The chapel is used for lots of events through the University of Pittsburgh, but some of it's main and most common events through the year are, you guessed it, wedding ceremonies!
Reserving Heinz Memorial Chapel for your Wedding
One of the big rumors that circulates in the Pittsburgh area is how difficult it can be to reserve a time slot for a wedding ceremony at Heinz Chapel! In years past, wedding dates were only open a year in advance, and so brides and grooms would hop on their phones the first of every month to reserve their perfect day and time slot. In more recent times, Heinz Chapel has opened their calendar for bookings two years in advance, and reservations are open to anyone, not just PITT alumni. This may make it easier to get your wedding date if you book in advance, but there is now more 'competition' out there for those prime times.
Heinz Chapel Time Slots
Each day that Heinz Chapel has available for weddings also has numerous time slots. Your time slot will allow you the chapel for a small period of the day, usually around two hours. Some couples are looking for mid-day wedding ceremony times, but keep in mind that evening ceremonies (around the 6pm time) and brunch wedding times (around 11am) are great options as well. Don't be disappointed if you aren't able to snag your ideal time. Being flexible and quick is the key to really solidifying your wedding ceremony at Heinz Memorial Wedding Chapel.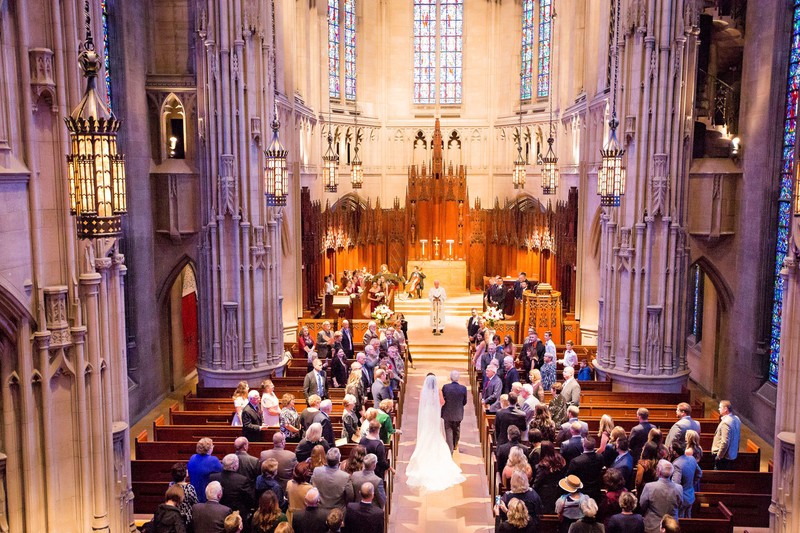 Your Wedding Ceremony at Heinz Chapel
On the day of your wedding, you will have clear organization from the Heinz Chapel coordinators (they are great and very knowledgeable!). You'll have your guest parking ironed out and know if you need to have a police officer present for parking assistance. The chapel coordinator will give you all of these options when you reserve the chapel.
Prior to your ceremony start time, the bride will enter Heinz Chapel and head downstairs to the bridal suite. This is a room that will hold the bride, parents, and bridesmaids (fiance/parents/wedding party). This room is down a stone staircase indoors and to the right off of the chapel narthex. The groom/fiance will otherwise be in the side areas off of the altar area.
As wedding guests arrive, they will be greeted and seated in the vast chapel pews. There is plenty of space for everyone!
Non-Denominational Wedding Ceremony Heinz Chapel
Heinz Memorial Chapel is non-denominational, so there are lots of different types of ceremonies that can take place at the church. I have photographed short ceremonies, and Catholic ceremonies. I have not yet experienced a communion at the chapel, so I do not believe this is something that they offer for weddings. However, you can incorporate your religious traditions and bring in your own pastor/priest/officiant.
Photography at Heinz Chapel
During the ceremony, your wedding photographer will be permitted to move around the chapel to photograph the nuptials However, your photographer should keep in mind that this is a church on a private institution, so being respectful of the property and the ceremony is especially important. There is a balcony entrance to the left of the front door for upstairs angles of the ceremony. There are also small doors in the back of the altar area that allow photographers to peek through and get different angles of the couple that the guests could never capture.
Following the wedding ceremony, you will be allowed photography inside of the chapel until your time slot ends. This can include family photos at the altar and couple's photos inside of the chapel. It is popular to capture the couple with the architecture of the building. These are some of my favorite wedding photos from my time with my couples in Heinz Chapel! Photographing the bride and groom in the red doors of Heinz Chapel is another popular location!
Photos outside of Heinz Chapel
After your time slot has ended, you will need to exit the building, but there are still plenty of locations for photography nearby to the chapel! Since the chapel hosts multiple weddings in one day, you will likely be asked to move away from the direct chapel property to allow for the next set of guests and wedding party to arrive, but some of my favorite locations are within walking distance of the chapel.

If my couple is a PITT alumni pair, then the Cathedral of Learning directly behind Heinz Chapel Is a great photography backdrop. There is a really nice angle (since it's big!)to include the full Cathedral from right outside of Heinz Chapel. This location also gets great light!

If your time is up at the chapel before you can get in front of the popular red doors, you can walk to the Stephen Foster Memorial building right down the corridor from Heinz Chapel - that building also has matching red doors, and no one would know the difference!

Also within walking distance are the Mellon Institute Pillars, which is a popular location for photography in the Pittsburgh area. This is also a good rain plan, since the columns are covered. Be warned that they are pretty busy during rainy days!

Lastly, the walkways on the PITT campus are beautiful! They have lots of spots for photos on the walkways, blooming trees, and pretty pathways!




Location: S Bellefield Ave, Pittsburgh PA 15213.

Keywords: Heinz Chapel (32).