Pittsburgh's Most Beautiful Babies
est. 2020
Your sweet little baby is such a precious blessing. I cannot wait to meet your newest little one. Below are lots of images of some of the gorgeous babies I've had the honor of photographing, in addition to more details about my newborn sessions.
---
750 studio session, 900 in-home session
Capturing the Joy of New Life in Pittsburgh
Your precious little one has arrived, and their journey of love and growth is just beginning. At Leeann Marie Photography, I specialize in creating timeless memories of this extraordinary chapter in your family's story. As a mom of four, I have a huge heart for these little babies, and I treat them with the most precious care and love. Based in the vibrant city of Pittsburgh, I offer newborn photography sessions that celebrate the beauty, innocence, and pure joy of your baby's early days. My studio provides lots of color and styling options, while being nestled in a quiet setting for you to relax during your special session.


Why Choose Leeann Marie Photography?
I can't wait to see you and meet your newest little one! I truly love my newborn photo sessions. They are some of my favorite experiences at the studio, and your little one is in good hands!
Experience and Expertise:
With years of experience in newborn photography, I understand the unique needs and challenges that come with capturing those delicate first moments. You can trust me to handle your newborn with the utmost care and to create stunning images that will be cherished for generations. As a mom of four beautiful kids, I understand that this time in your life is beautiful and stressful all at once. I want you to feel comfortable at my studio and to know that your little baby is in the best of hands. I always make sure that your newborn is well taken care of - both for the photography posing and for the session, with attention to feeding and diaper needs.
My Unique Artistic Vision:
I believe that every baby is a work of art. You should have photos of their special little dimple - so small on their little cheek. You should see their little baby fingernails - a little jagged, but still soft from the day they were born. You should remember their sweet head of hair - the way it spikes up a bit and the softness of the strands that is lost over time. I skillfully compose each shot, ensuring that every detail is captured in a way that showcases the extraordinary beauty of your little one.
I also love images that are true-to-color, consistent. and crisp. In all of my work you can see that I am focused on clean backgrounds where my clients (and your little one!) are the focus of attention. During my newborn sessions, I keep babies in more monochromatic setups, so that you can really see their sweet chubby cheeks. I also like to make sure that my baby photos are true-to-color and babies do not look too washed out. I love to see some of the sweet pink in those little cheeks!
Customized Sessions:
I understand that every family is unique, and I tailor my sessions to reflect your individual style and preferences. From choosing the perfect backdrop colors and props to incorporating meaningful elements into the photographs, I work closely with you to create a truly personalized experience. Before your session, I will ask for some details about your nursery and home style so that I can pull wraps and bonnets or headbands that truly match your personal style. If you're looking for super-girly - I have that! If you'd like to stick to neutrals - I have that too! If your husband wants a photo of the baby with his bow case - I've done it :) I'm all about customizing your session to your style.
Comfortable and Relaxing Environment:
I strive to create a warm and welcoming atmosphere where you and your baby can feel at ease. My cozy studio in Pittsburgh is thoughtfully designed to provide a peaceful setting for your newborn's photo session. I have all the necessary amenities to ensure your comfort during your time here. You are welcome to relax on the studio couch and browse through some albums or catch up on Bridgerton. Your little one's older siblings can play outside on the swing set, or color on the studio table. There is a refrigerator for anything you'd like to keep cold, and you can pump during your newborn's session if you need to! I also have a restroom and changing room for you to use here at the studio. Finally, the studio is kept warm with a noise machine running if you'd like to have a little snooze :)
Precious Keepsakes:
My goal is to deliver breathtaking images that become cherished keepsakes for your family. From stunning wall art to heirloom albums, I offer a range of products that beautifully showcase your baby's images and allow you to relive these precious moments for years to come. All of my newborn sessions include the high-resolution digital images with print release. Images are edited prior to delivery to you, so you see the beautiful, finished product!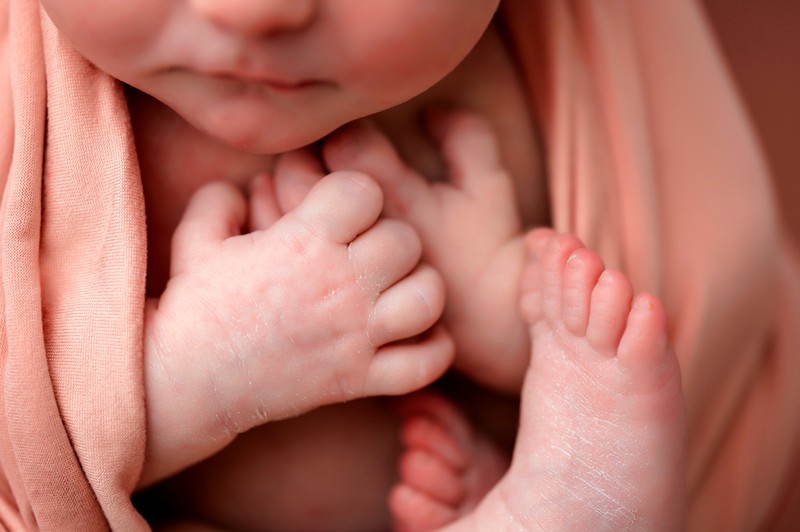 About Leeann
Hi - I'm Leeann, a newborn photographer based in Pittsburgh. I am incredibly fortunate to have a career that allows me to freeze those precious early moments of a newborn's life and create lifelong memories for families in my beautiful city. I have photographed events and families for over fifteen years, which feels like a long time, but I feel really young at heart! :) I bring immense professional photography experience to my clients, with a genuine focus on connection and personal relationships.
Family is at the core of my being, and I am a proud parent to four amazing children. Being a mother not only deepens my understanding of the tender connections between parents and their newborns, but it also brings an extra level of love and compassion to my work. My husband, Brad, has been my rock and biggest supporter for the past 15 years, and together we have built a beautiful life in the charming Beaver County area, which we call home.
Living in this close-knit community has given me a sense of belonging and has allowed me to develop a strong connection with the families I serve. The joy of witnessing the growth of families in this area is something that truly fills my heart.
While my profession brings me immense fulfillment, I also make time for my own personal interests. Traveling to new places, working outdoors on our trails, and immersing myself in captivating books are some of the activities that rejuvenate my soul. Exploring new landscapes and cultures not only expands my artistic perspective but also fuels my creativity, enabling me to bring a fresh and unique approach to my photography.
I feel incredibly blessed to be able to combine my passion for photography with the love I have for my family and community. Each day, I strive to capture the beauty and innocence of newborns, preserving their fleeting moments in time. It is an honor and privilege to be a part of these precious memories for families, and I am grateful for the opportunity to share my art with the world.
This is my family: Bronco (5), Brad, me, Grant (baby), Joy (9), Paige (3).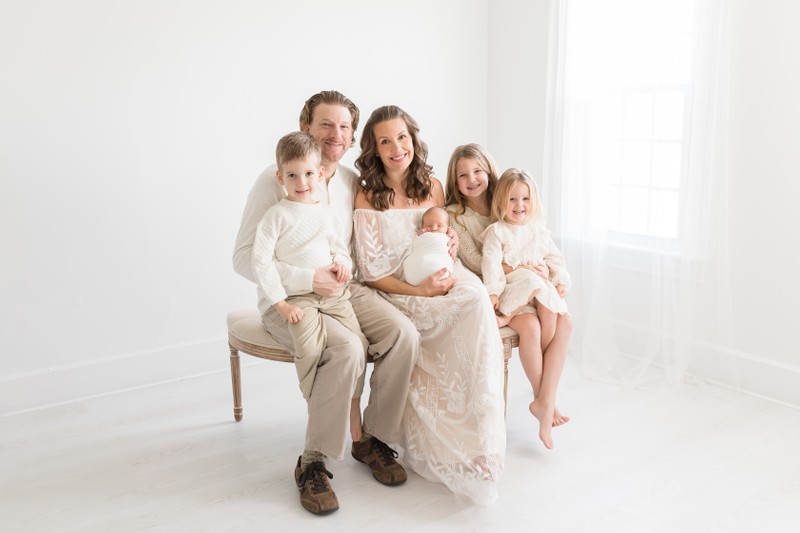 Newborn Session FAQs
What to expect during your newborn session and before. I'm here to help with all of the details!
My studio is located near Beaver. It is very easy to access from I-376, Rt. 51, Rt.65, and the Turnpike.
Sessions are 750 and include the studio time, edited images in color and black/white, and an online gallery with print release. You can also order prints, canvases, and heirloom albums from your newborn session.
Unless it is something special to you. Otherwise, I have lots of wraps, bows, hats, and blankets for newborns.
I have long, flowy dresses for moms to choose from in a variety of sizes from S-L. For dads, I recommend basic neutrals with no prints.

For family photos, I recommend the following in neutrals:

THE ONE COLOR RULE: One of the best ways to dress your family is to choose a color. This is your starting point. From there, make sure that each person's outfit has this one color in it somewhere. Everything else can be unique! Incorporating this one color will unify your looks in photos.

FASHION NO-NOs:
No large logos - they're distracting.
Wear clothes you are OK with getting dirty.
Style the kiddos hair nicely
A little more makeup than usual helps it to show in photos


Sometimes my clients have specific items that they would like to include in newborn photos. For example, a golfer dad brought a golf ball to include. It was very cute! I will try my best to help personalize your session to your interests, baby, and color design.
We will hold your due date as your tentative session time. Once the baby arrives (whether that be early, late, or right-on-time!) we will schedule your session for 7-14 days of age.
Sessions are photographed at my studio on weekdays, typically on Mondays, Wednesdays, and Fridays. I usually will schedule sessions for a 10am or 1pm start time.
My studio has a comfy couch! I always suggest that parents take a nap :) Of course, during newborn sessions you are more than welcome to watch as I photograph your little bundle, or you can catch up on TikTok. Totally up to you! We will include parents in a set of photos as well if you're up for it.
Images are delivered in ~3 weeks or less. I try to get them back to you promptly, it simply depends on my queue!
My newborn packages include the digital files. You get the high-resolution versions with no watermarks.
You can also order all of these items, and memory albums through me. I'll walk you through the best products to display in different ways, and how to make a package that suits your needs and budget. Easy peasy!
I am the dish-washing, diaper-changing, schedule-organizing mom of four awesome kids. You might meet them at some point if you come to the property for a session!

Joy (9) - loves swimming and being the boss. She's very responsible and helpful for my sessions if needed.
Bronco (5) - loves Matchbox cars and is obsessed with the weather and natural disasters (?!)
Paige "PJ" (3) - absolutely adorable, and absolutely a nightmare.
Grant (baby) - completed our family
Brad (44) - works hard to keep our grass cut and the property looking beautiful. Married 15 years.

I absolutely love holding newborns, and can answer a million mom-questions. I love the challenge of a two-year-old, and four year olds are really fun! I love talking with the older children to get to know their thoughts, and believe that every age of childhood is fleeting, and thus - incredibly meaningful.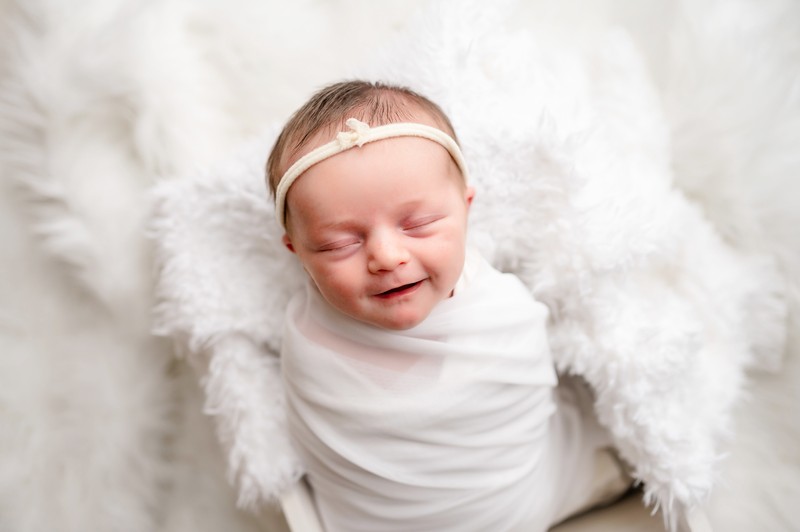 Book Your Newborn Session Today!
Don't let these fleeting moments slip away. Schedule a newborn photography session and let me have the pleasure to capture the magic of your baby's first days. I am dedicated to providing you with a remarkable experience that honors the wonder and beauty of new life.
Contact me today to reserve your session and start creating lasting memories of your little blessing!