Wedding Ceremony First Presbyterian Church Pittsburgh
Wedding ceremonies at First Presbyterian Church in downtown Pittsburgh, PA are absolutely gorgeous!
Where is First Presbyterian Church in downtown Pittsburgh?
This church is situated on Sixth Avenue, across from the Duquesne Club. The church itself is beautiful both inside and out! It's the perfect place for a beautiful wedding - they have a few photo rules to know about - but it's very pretty!
Outside of the church, there are some stairs up the front and a large area for guests to gather before or after the ceremony. I also like to take family photos in in this area because it's not on the street and has nice light.
First Presbyterian Church Arch
There is a beautiful architectural detail of a large archway in front of the church that is wonderful for photos. It's really something unique to First Presbyterian Church and I love it's gothic style - very Pittsburgh!
Inside First Presbyterian Church Pittsburgh
Once you've enjoyed the outside of the church, the inside does not disappoint either! One of the most spectacular things about First Presby is the set of doors in the back of the church. This may not sound all that exciting, but once you see the doors you'll understand! These are huge wooden doors that are directly at the altar area. When wedding guests first arrive, the doors are closed. However, at the beginning of the ceremony, they slowly open up to reveal the rest of the altar and beautiful windows. It's really something to see!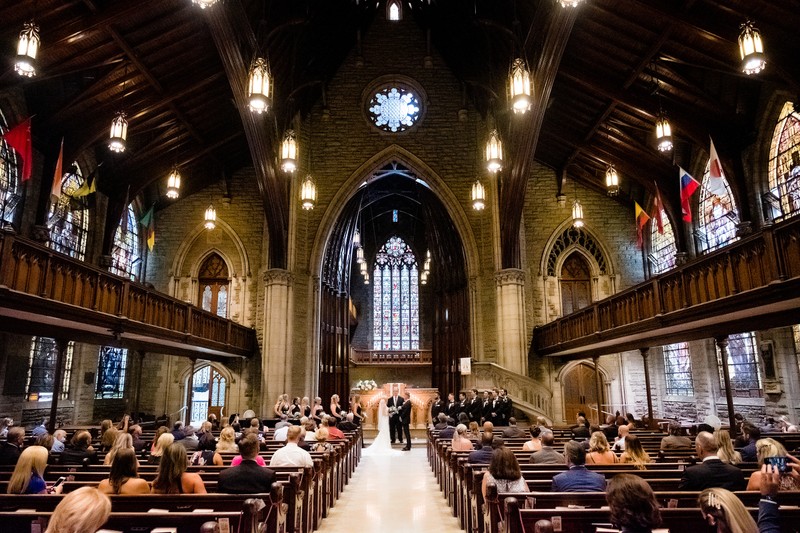 Location: 320 Sixth Ave, Pittsburgh, PA 15222.

Keywords: First Presbyterian Pittsburgh (4).