Cathedral of Learning University of Pittsburgh Wedding Pictures
Want a location that has a TON of options for wedding and engagement photos? The University of Pittsburgh campus is a gorgeous option! The campus offers beautiful greenery, scenery, and architecture. Whether you're a PITT alum or not, you can take advantage of this photo location for lots of your picture needs!
PITT Campus Wedding + Engagement Photos
Around PITT campus there are tons of options. I usually like to meet up with my couples at the Cathedral of Learning and then adventure from there. Some of the great photo locations would include the Cathedral, Cathedral Lawn walkways, near the Stephen Foster Memorial building, and on Schenley Green. Near The Porch restaurant, there is the Schenley Plaza, which has the carousel and also lots of flowers and scenery in the park area adjacent to the restaurants.
Soldiers and Sailors Memorial also has a beautiful lawn for pictures, with a great view of the Cathedral of Learning. All of these locations are within easy walking distance of each other, and you can also venture over to the Mellon Institute Pillars for photos as well!
Cathedral of Learning Wedding + Engagement Pictures
One of the most prominent buildings on the University of Pittsburgh campus is the Cathedral of Learning. This high, gothic-style work of architecture is absolutely beautiful, and it also lights up gold when PITT wins important football games! The Cathedral of Learning is host to many classes, and the inside is just as beautiful as the outside.
Photos inside the Cathedral of Learning
If you'd like to take photos inside of the Cathedral, you can do so, but be mindful that it hosts students who are studying! The main hall is a great, vast place for photos. You'll have to take in some flashes to setup since it is dark inside, but you can really capture some pretty photos with the iron gates, stained glass windows, and interior architecture.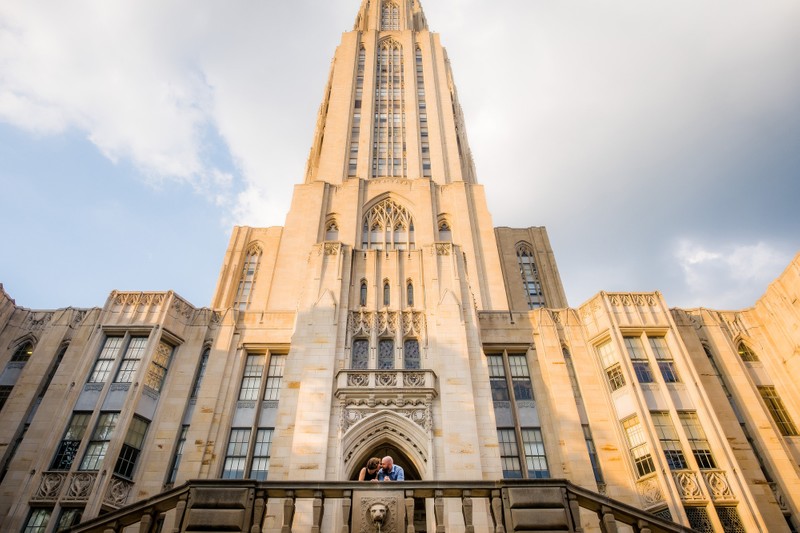 Photos outside the Cathedral of Learning
Outside of the Cathedral, the light bounces off of the light-colored building in a way that makes for beautiful wedding or engagement photos. I love the scenery around the building, which also has lots of tulips and hydrangeas in the spring season. Nearby, you'll find the Stephen Foster Memorial and also Heinz Memorial Chapel.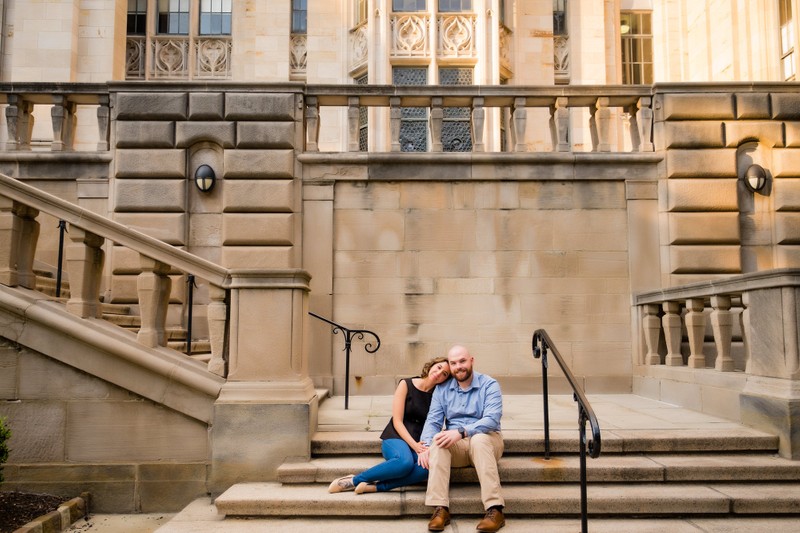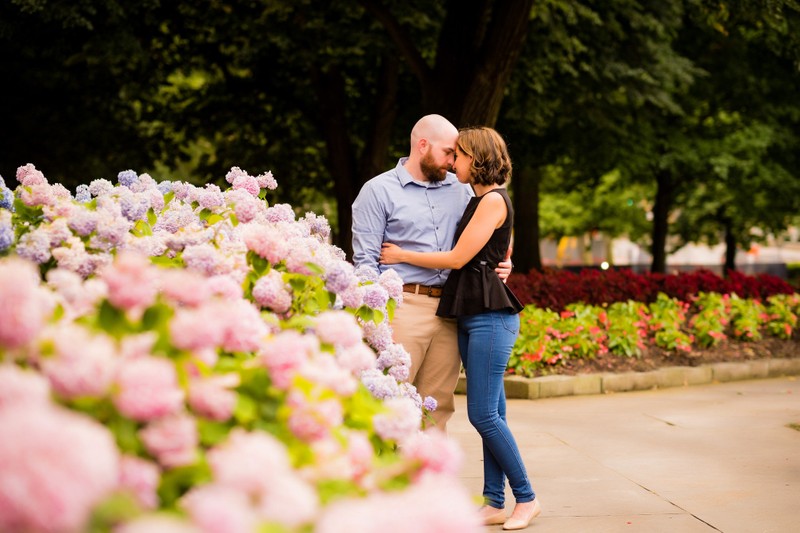 University of Pittsburgh Wedding Photos
Wedding photos are perfect on PITT campus. The photo below was taken across from Heinz Chapel near the Cathedral, where the walkway is covered by lots of big, old trees. There is also a large plaza on the outside of the Cathedral that is great for large wedding parties!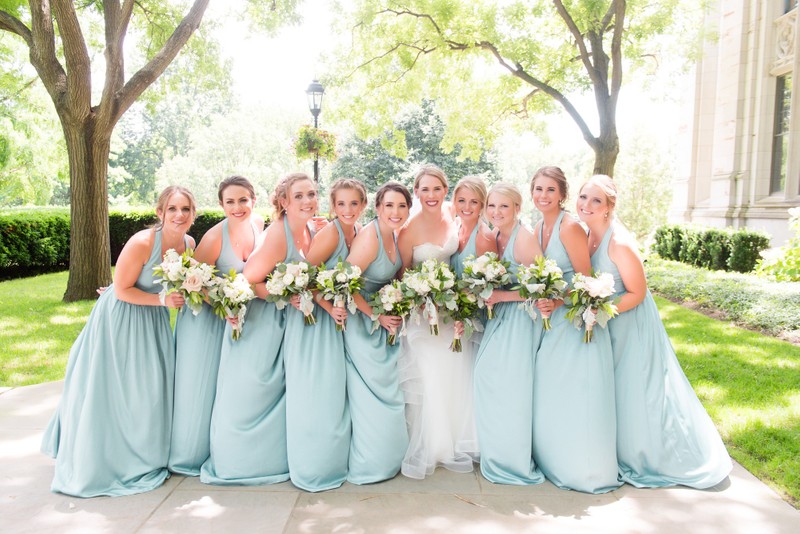 Schenley Love Lock Bridge Pictures
Also within walking distance? The Schenley Bridge! This bridge forms a barrier between the University of Pittsburgh and CMU campuses, and is also a "love lock" bridge! You can do photos all within walking distance from the chapel, to the Cathedral, to the Frick Fine Arts building, and finally the Schenley Bridge! All great options!


Fun PITT Wedding Pictures
Looking to add a bit of fun for your wedding party? Are you a PITT alum? Why not hit up your favorite bar in between your photo time? This group went to Hemingway's for a drink and some pictures before heading over to their wedding reception, and it was a really fun way to relax and throw a little 'something different' into the typical wedding day timeline.




Location: 4200 Fifth Ave, Pittsburgh PA 15260.

Keywords: PITT (17).